Sam the Sitemaker (SSM)
specializes in servicing small to mid-sized businesses and organizations that need a competent specialist to host, design, write, and maintain their Web sites. Whether the site is strictly informational or educational, as with many of our political organization clients, or designed to attract paying customers and generate sales, SSM offers a range of Web services from which you can select those that suit your needs, your goals, and your budget.
SSM specialists are trained and exceptionally experienced at all phases of Web site hosting, design, and management. We have the writing and editing skills needed to convert your content and ideas to a Web site that will help you achieve your goals.
SSM provides personalized service.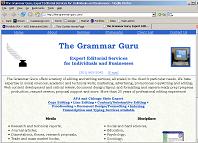 Each site design is individually conceived to suit the particular goals of the client and is governed by site navigation strategies and requirements, best practices for engaging and activating the reader, the client's needs and preferences, as well as layout and design concepts that contribute to the success of the site, as defined by the client. SSM accomplishes all this without the inflated prices often charged by competitors in the Web support field. If you are hesitating to hire help with your Web site because you are concerned about dealing with intimidating geeks who will talk over your head, turn to SSM: we speak your language and we're easy to deal with.

Confused about Web terminology? Check out at SSM's user-friendly definitions.
Contact Sam the Sitemaker if
You've got a great Web site already up and running, but you can't find the time to keep it current.
You've got a great idea for a Web site, but lack the technical know-how to turn it into a reality or the writing skills to give it the polish it needs to sell your product, service, or idea.
You've got a site that needs a new look or sharp new content to make it really sing.
Sam the Sitemaker is a partnership between technical specialists, marketing brains, and content experts willing to take on the whole process from start to finish, or any portion of it, including
Registering your domain name,
Hosting your site,
Analyzing the target market,
Designing the site,
Writing or editing content,
Maintaining the site,
Troubleshooting,
And more.
SSMís clients include many political organizations, small retail enterprises, and organizations and individuals in the art world. Our client list shows the nature of the enterprise and the types of services we provide.
SSMís services are priced to be affordable and fair without the bloated technical fees charged by many hosting and design companies. Personal, reliable service and the ability to assemble a custom service package make SSM a great value for your Web work.